Facts About Recycling Paper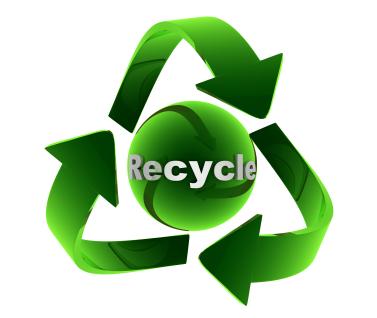 Learning the facts about recycling paper will help you as you fulfill your part to keep our environment green . You only need to look around you to see that paper is everywhere and of course, the need for it is essential. If we keep our minds focused on the desire to be friendly to our Earth and her resources, recycling will become important. After a while, we will be in the habit of recycling the paper we use in the course of a given day. Likewise, we will teach our children so that recycling becomes as common and familiar as ABC.
Why Recycle Paper?
Statistics show the following:
A typical office generates about one pound of paper per employee and that from that paper, 77 percent of what is wasted in offices across the country is recyclable.
Most of the paper wasted is high grade paper.
Using old paper to make new paper uses 30 to 50 percent less energy than making paper from trees.
Pollution is also reduced by 95 percent when used paper is made into new sheets.
40 percent of all waste going to landfills is paper. Cutting down on paper waste will extend the lives of our landfills.
Newspaper can be recycled into egg cartons, game boards, new newspaper, gift boxes, animal bedding, insulation and packaging material.
Office paper is recycled into paper towels, tissue paper and toilet paper.
Corrugated cardboard is created into new cardboard and cereal boxes.
Recycling Facts
How Does Recycling Paper Help Landfills?
How Recycled Paper Is Made
With these facts about recycling paper the multiple benefits to the environment are obvious.
What Can be Recycled
The following cardboard and paper items can be placed in the recycle bins to be recycled:
White paper
Colored paper
White and colored envelopes with windows
Booklets
Manuals
Fax and telex copy paper
Greeting cards
Adding machine tape
Carbon-less forms
Post-It notes
Soft-covered books with white pages
Time cards
Manila folders
Telephone directories
Magazines
Newspapers
Flyers
Non Acceptable Items for Recycling
The following are not accepted in recycling bins:
Pizza boxes (unless they have the recycling symbol on them, showing they are made of corrugated cardboard; some pizza restaurants are becoming more eco-friendly)
Coffee cups
Candy wrappers
Tissues
Paper towels
Carbon paper
Brown and kraft envelopes
Keep your officemates recycling!
Recycling Paper in the Office
You may be keen on recycling, but how do you get those in your place of work to think 'Recycle'?
Have a place by the fax machine or copier to put paper for recycling.
Buy only the quantity of supplies needed.
Reduce computer printouts. Use email to send messages to office mates as well as to receive messages.
Minimize the use of glossy and special types of papers that are difficult to recycle.
Make two-sided copies.
Cut down on paper for memos.
Have a bulletin board with daily updates or with a section where notes can be posted for all to see.
Keep mailing lists current so when you do mail something out, it won't be returned due to an old address.
Eliminate duplicate files.
Encourage all employees to use less paper.
Convert scratch paper into memo and telephone answering pads.
Buy Recycled Paper
You can purchase recycled paper by searching for companies that sell paper made from recycled paper.
Recycling Saves
According to The Public Recycling Officials of Pennsylvania, resources are conserved when paper is recycled. For every ton of paper that is recycled, the following are saved:
17 trees
275 pounds of sulfur
350 pounds of limestone
9,000 pounds of steam
60,000 gallons of water
225 kilowatt hours
3.3 cubic yards of landfill space
Now that you know the facts about recycling paper, get out there and practice it!
How Do Humans Affect the Environment?

By Susan Patterson

Effects of Water Pollution

By Jared Skye

Why Is Our Environment Important?

By Vijayalaxmi Kinhal

How Styrofoam is Bad for the Environment

By Vijayalaxmi Kinhal

Why Should We Not Ban Plastic Bags

By Crystal Schwanke
Alternative Fuel
Eco-Friendly Products
Energy Efficiency
Environmental Issues
Green Living Expert Interviews
Green Living Slideshows
Healthy Living
Hybrid Vehicles
Low-Impact Living
Recycling
Facts About Recycling Paper
Students
Parents
Faculty & Staff
Alumni
Visitors
Community
myUSI
Sitemap
Find People
Contact
Recycling at USI
Paper Recycling Facts
Plastic Recycling Facts
Glass Recycling Facts
Solid Waste & Landfill Facts
Miscellaneous Recycling Facts
To produce each week's Sunday newspapers, 500,000 trees must be cut down.
 
Recycling a single run of the Sunday New York Times would save 75,000 trees.
 
If all our newspaper was recycled, we could save about 250,000,000 trees each year!
 
If every American recycled just one-tenth of their newspapers, we would save about 25,000,000 trees a year.
 
If you had a 15-year-old tree and made it into paper grocery bags, you'd get about 700 of them. A busy supermarket could use all of them in under an hour! This means in one year, one supermarket can go through over 6 million paper bags! Imagine how many supermarkets there are just in the United States!!!
 
The average American uses seven trees a year in paper, wood, and other products made from trees. This amounts to about 2,000,000,000 trees per year!
 
The amount of wood and paper we throw away each year is enough to heat 50,000,000 homes for 20 years.
Approximately 1 billion trees worth of paper are thrown away every year in the U.S.
 
Americans use 85,000,000 tons of paper a year; about 680 pounds per person.
 
The average household throws away 13,000 separate pieces of paper each year. Most is packaging and junk mail.
 
In 1993, U.S. paper recovery saved more than 90,000,000 cubic yards of landfill space.
 
Each ton (2000 pounds) of recycled paper can save 17 trees, 380 gallons of oil, three cubic yards of landfill space, 4000 kilowatts of energy, and 7000 gallons of water. This represents a 64% energy savings, a 58% water savings, and 60 pounds less of air pollution!
 
The 17 trees saved (above) can absorb a total of 250 pounds of carbon dioxide from the air each year. Burning that same ton of paper would create 1500 pounds of carbon dioxide.
 
The construction costs of a paper mill designed to use waste paper is 50 to 80% less than the cost of a mill using new pulp.
Information from Recycling Revolution
About USI
Employment
Visit Campus
Emergency Info
Contact Us
Facebook
Twitter
Youtube
Linkedin
Instagram
© 2018 University of Southern Indiana
8600 University Blvd.
Evansville, IN 47712
812-464-8600
A Carnegie Foundation Engaged University
Contact USI Facilities Team
×